Thanks to the support of BRR members and the community, 2018 has been a great year so far for the REALTORS® Community Foundation! The REALTOR® Outreach Committee (ROC), and members of our ROC Task Forces have been hard at work raising funds for the foundation's 2018 grant cycle. Still to come in 2018: volunteer opportunities and grant distributions. There are still lots of ways for you to get involved!
Raising Funds
The mission of the Foundation is to improve the quality of life in the Boise Region through housing-related projects and programs. ROC works diligently throughout the beginning of the year to raise the funds for the annual grant cycle. The two main fundraisers are the Give Back Golf Tournament – which was held at Shadow Valley Golf Course on May 30, 2018; and the Online Auction which closed on June 6, 2018.
Thanks to the more than 150 golfers, 48 sponsors, and the numerous volunteers who helped make the event a success! The golf tournament raised more than $23,000 for annual grants!
The Online Auction ran from May 23, 2018 – June 6, 2018, with 112 items! Thank you to all who donated items, and to those who bid! The online auction raised more than $7,300 for annual grants!
The annual grant cycle will open September 1, 2018, and applications will be accepted through September 30, 2018.
 Impacting our Community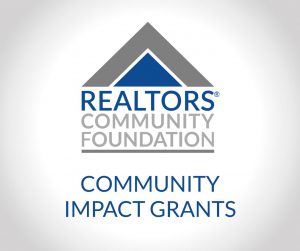 In the past, the main ways the REALTORS® Community Foundation has provided support to the community was through the Matching Gift Program and Annual Grants. However, starting this year, and thanks to the generous support of the Boise Regional REALTORS® Board of Directors, and the Intermountain MLS Board of Directors, the foundation has introduced Community Impact Grants. These grants focus on the "improve the quality of life" aspect of the foundation's mission and will fund organizations or projects that don't fit into the foundation's annual grant cycle, due to criteria or timing.
So far, the foundation has awarded three Community Impact Grants totaling $4,750! Information about grantees, funding criteria and applying for funds is available on the Community Impact Grants page.
Outreach
While grants are awesome, the foundation is about more than just providing monetary support. We like to get our hands dirty too! Earlier this month, the Paint the Town program through NeighborWorks Boise saw FIVE houses painted by REALTOR® Community Foundation teams! Thank you to our painting teams:
Broker's Council of Idaho
Coldwell Banker Tomlinson Group
Epic Realty
Keller Williams Realty Boise / Amherst Madison
BRR YPN / Silvercreek Realty Group
You can see their awesome work on the BRR Facebook page.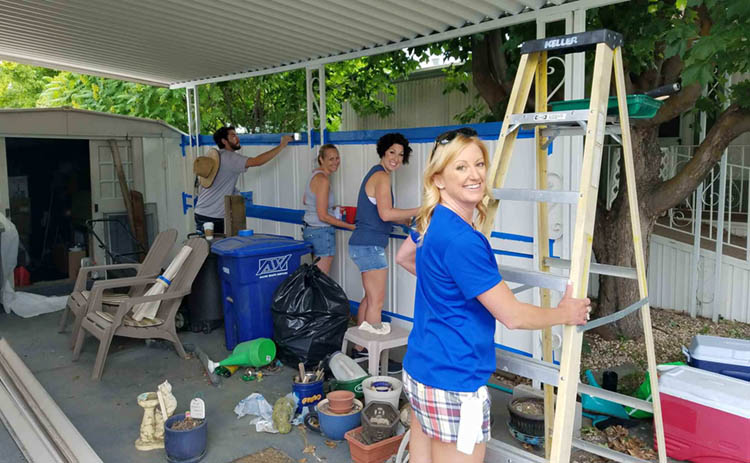 If you didn't get a chance to participate in Paint the Town, don't worry — we have more opportunities to volunteer! We need you!

Upcoming Volunteer Opportunities

1.   More Than School Supplies Drive: July 9 – August 15
On behalf of the Community School programs in the Boise, Emmett, and West Ada School Districts; ROC will be collecting "life supplies" – those items not covered by most food assistance programs: toilet paper, personal hygiene products, cleaning supplies, pet food, etc.  We will also be collecting gift cards to stores like Wal-Mart or Fred Meyer, and monetary donations as well so these organizations can purchase needed items directly.
If you are interested in hosting a donation drop box in your business, please email Shari Fernandez. A ROC member will happily deliver a collection box and coordinate pick-up as your box fills-up.
2.   REALTORS® Community Foundation at the Idaho Foodbank
Join ROC on Thursday, August 9th from 12:30 – 2:30 p.m. for a shift at the Idaho Foodbank!  We will be doing tasks such as; sorting donations by nutritional category, repackaging bulk food into family-sized quantities, placing stickers on unlabeled cans and even building backpack inserts.
We need committed volunteers. You can even make it a family affair and bring your kids! Volunteers as young as the age of 8 are welcome. Those 15 and younger must be accompanied by an adult volunteer. Sign-up now to volunteer.
3.   Rake Up Boise
It's still months away… but mark your calendar for Rake Up Boise 2018: Saturday, November 10th.  Do you already know you will have enough people to make a Rake Up team? Email Shari Fernandez to get your team on the list!