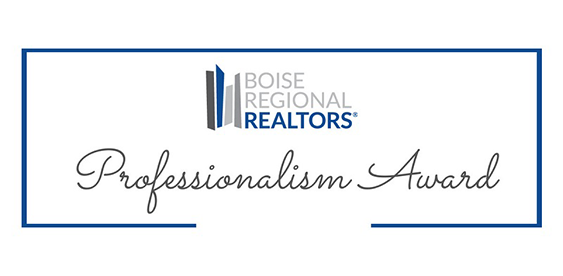 BRR's Professionalism Award is an impartial, peer-to-peer based program that recognizes REALTOR® members for their professional and ethical behavior during transactions. BRR REALTOR® members are able to nominate other BRR REALTOR® members for outstanding professionalism anytime throughout the year.
Award Recipients are nominated and approved by their peers through our awards process. Recipients are recognized on our website and on our social media accounts each quarter once they have been vetted by their peers. To learn more about this program or to submit a nomination, visit our Professionalism Award page.
Congratulations to our Professionalism Award Recipients!
March 2019:
Sydney Burtwell, Silvercreek Realty Group
Becky Enrico-Crum, Andy Enrico & Co. 
Gennie Fishburn, Boise Premier Real Estate
Alicia Ralston, Ralston Group Properties
Becky Schiebout, Keller Williams Realty Boise
Dawn Templeton, Templeton Real Estate Group
June 2019:
Tracy Brault, Silvercreek Realty Group
Cristine Klag, ERA West Wind Real Estate
Phil Mount, Amherst Madison

September 2019:
Tommy Smith, Keller Williams Realty Boise
Sean Small, Accel Realty Partners, LLC
Scott Latham, Group One Sotheby's EAGLE
Jeremy Almeida, Keller Williams Realty Boise