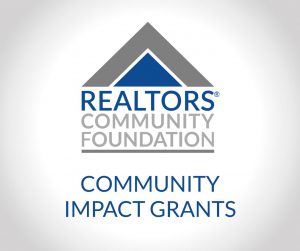 What are Community Impact Grants? 
New in 2018, Community Impact Grants offer the REALTORS® Community Foundation (the Foundation) the opportunity to create a lasting impact on the community outside of the annual grant cycle. Impact Grants focus on the "improve the quality of life" aspect of the Foundation's mission. Funded by the BRR Board of Directors and the Intermountain MLS Board of Directors, Community Impact Grants will fund organizations or projects that don't fit into the Foundation's annual grant cycle, due to criteria or timing.
What is the funding criteria? 
The Foundation board will use the following criteria to evaluate potential Community Impact Grants:
Grants may only be given to organizations within Ada and Gem counties.
Grants will never be given to individuals.
Preference will be given to organizations or projects with high impact, in so far as they have clearly defined tangible and/or long-term benefits or outcomes that will improve the lives of a significant number of people.
Preference is given to projects being done in collaboration with various community groups, organizations, or stakeholders.
Preference is given to organizations or projects that provide a high visibility for the Foundation and REALTORS®.
What Community Impact Grants have been awarded?
$2,500 to the Boise Metro Chamber Foundation, Inc. on behalf of Leadership Boise and Global Gardens.
The Foundation partnered with Leadership Boise on their annual service project. Impact Grant funds are being used to purchase and install fencing along the front of the Global Gardens' Pond Street Farm. Any remaining funds are to be used to purchase trees for the new food forest.
$750 to the Boise Schools Foundation on behalf of the Garfield Elementary STEM Camp. Funds were utilized to purchase STEM Camp supplies and meals for camp participants – made-up of mostly children from low-income families who would not have otherwise been able to participate.
$2,000 to the Idaho Diaper Bank.
Grant funds are being utilized to establish an educational toilet training program for low-income families.
$4,750 as part of a $10,000 donation to the International Rescue Committee in Boise.
The Foundation partnered with the BRR Board of Directors to provide a $5,000 match to raise funds in support of the victims of the attack on June 30, 2018 at the Wylie Street Station apartments. Thanks to the generosity of BRR Members and a grant from the First Story Foundation, we were able to meet our goal and provide a $10,000 donation to the IRC in Boise.
How do I apply? 
There is no application form for this grant. Please submit a letter of inquiry to Shari Fernandez. Describe your project and how it meets the Community Impact Grant funding criteria.
Have questions? 
Feel free to contact Shari Fernandez to discuss your project.