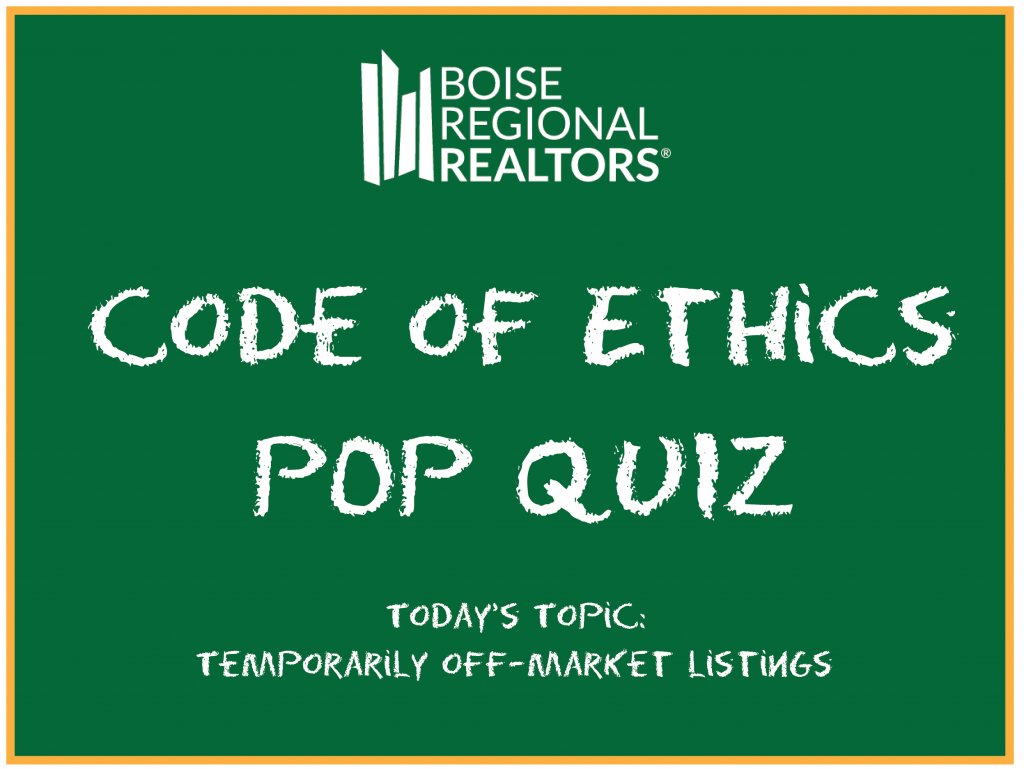 Question
You receive a call from an out of town buyer who would like to see one of your listings, but is only in town for a couple of days. However, you recently re-listed the home they would like to see as "Temporarily off-market" in the MLS and it won't be "active" again for another 2 weeks. Do you let them see your listing now or tell them to wait?
A.) The buyer has to wait. However, you'll work to schedule them an appointment to see the listing when it is active again and, in the meantime, you will search for other listed and unlisted homes that might fit their needs and that are available for showings.
b.) You show the home. It will be active again soon anyway and no one has to know.
c.) You show the home but you won't accept an offer until it is officially active again.
Answer

If you answered A, then you are correct!

Our Code of Ethics states that REALTORS® shall not misrepresent the availability of access to show a listed property. In this case, allowing access to a temporarily off-market listing would be considered misrepresentation because the agent knows that MLS rules prohibit show non-active listings. 

What does the National Association of REALTORS® Code of Ethics say?

Article 3, section 8 states that, "REALTORS® shall not misrepresent the availability of access to show or inspect a listed property."

Showing temporarily off-market listings is not only an ethical concern, it violates the rules and regulations laid out by our local MLS.

Section 1.5.1 of IMLS Rules and Regulations states:

"A Temporarily Off Market listing is one that becomes unavailable for showing during the listing term of the contract. In order to place a listing in the Temporarily Off Market status, the seller's authorization is required and must be input into to the MLS within one business day. The Agent Remarks section must disclose the date on which the property will become available for showing again, or why it will not be returning to an active status.

During the Temporarily Off Market time period, no showings of the property are permitted by any licensed agent including the Listing Agent, Listing Broker and/or any Agent affiliated with the Listing Brokerage firm… When the Temporarily Off Market time period has expired and the listing becomes available for showings again, the listing must be transferred to an Active status on the date that it can first be shown."

Violating this rule could result in a $500 fine.

Additional Resources on Article 3:

 IMLS Rules and Regulations