We're only two weeks away from election day and want to share our voter guide of REALTOR® Champions and issues! REALTORS® are leaders in the community so it's important that BRR members vote to make our voices heard. The Public Policy Committee at Boise Regional REALTORS® thoughtfully interviewed and vetted candidates and local ballot measures to receive our association's endorsement. Learn about the candidates and issues and then vote in the general election on Tuesday, November 6.
BRR has endorsed the following Ada County candidates and ballot measures:
Ada County Commissioner, District 1 — Jim Tibbs
Ada County Clerk — Phil McGrane
Ada County Assessor — Robert McQuade
Ada County Treasurer — Elizabeth Mahn
ACHD District 3 – Paul Woods
Ada County Vehicle Registration Ballot Measure – YES
College of Western Idaho Plant Facilities Reserve Fund Levy – YES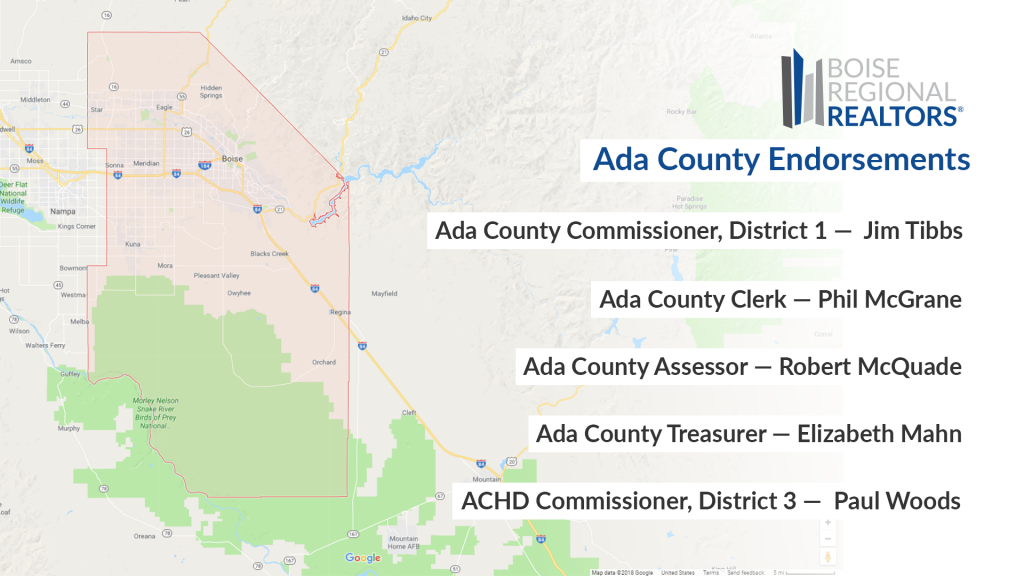 BRR has endorsed the following Gem County candidates:
Gem County Assessor — Hollie Ann Strang
Gem County Clerk — Shelly Tilton
Gem County Treasurer — Megan Keene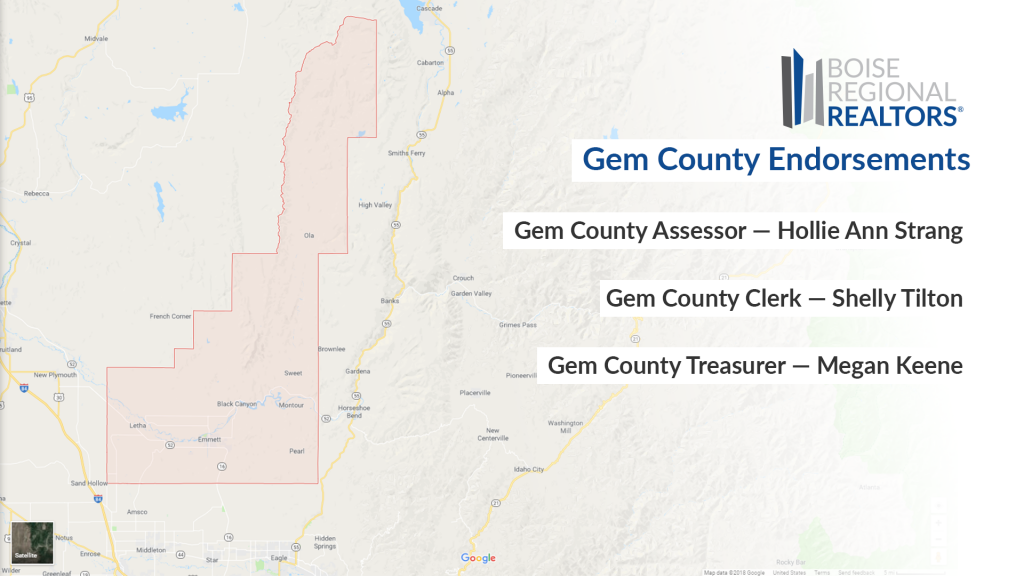 Elections will be held on Tuesday, November 6, 2018. Absentee ballots can be requested up until 10/26 and early voting is now open. For information on the candidates, registration, and where to vote, please visit idahovotes.gov, adacounty.id.gov/elections for Ada County, or gemcounty.org/elections for Gem County.
# # #
BRR's Public Policy Committee extends interview invitations to all candidates running for office in Ada and Gem County, and the municipalities and agencies within each county. Candidates interested in being interviewed share their views on housing, private property rights, education, transportation, and other issues affecting the community. From there, the Public Policy Committee, made up of volunteer REALTORS®, provides a list of recommended endorsements which are reviewed and approved by BRR's Board of Directors. For information regarding these local endorsements, please contact Soren Dorius, BRR Director of Government Affairs, at 208-947-7237 or soren@boirealtors.com.
Information about statewide races is available on the Idaho REALTORS® website at idahorealtors.com/your-voice-counts-important-voting-resources, or through the Idaho REALTORS® Government Affairs Director, Max Pond. He can be reached at 208-342-3585 or mpond@idahorealtors.com.