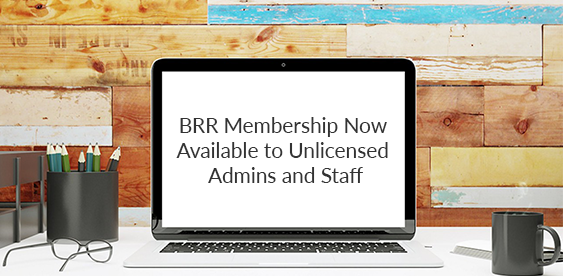 Unlicensed admins and staff working with REALTOR® members of BRR, either as an employee or through an independent contractor agreement, now have the option to join BRR! Admins are often the go-to person for information and assistance by many teams and busy real estate professionals. Because of their important role in the real estate office, it makes sense to give them the option to become BRR members, connecting them with association services and benefits.
Through this voluntary membership option, unlicensed admins and staff receive access to a variety of benefits:
There is no application fee for this membership option, and dues are just $200 per year and prorated based on the month you join:
January
$200.00
February
$183.33
March
$166.67
April
$150.00
May
$133.33
June
$116.67
July
$100.00
August
$83.33
September
$66.67
October
$50.00
November
$33.33
December
$16.67
To get started, simply fill out the Unlicensed Admin/Staff Membership Application and drop it off at BRR in person, weekdays between 9:00 a.m.–4:30 p.m., or email it to info@boirealtors.com. Please call us with any questions and thanks for joining!
Please note, this option is for BRR membership only and does not extend to membership or benefits with Idaho REALTORS® or the National Association of REALTORS®. Because of this, unlicensed admin or staff members are not "REALTORS®" and therefore unable to use the term or logo to identify themselves as such in any marketing or communication. They are also not part of a solicitable class for RPAC. Finally, while unlicensed admins or staff may be eligible for administrative access through IMLS, that is separate from this membership.